What you need to know when visiting a care home (new guidance for COVID-19)
Take a look at what the guidance around visiting your loved ones in care homes means in practice.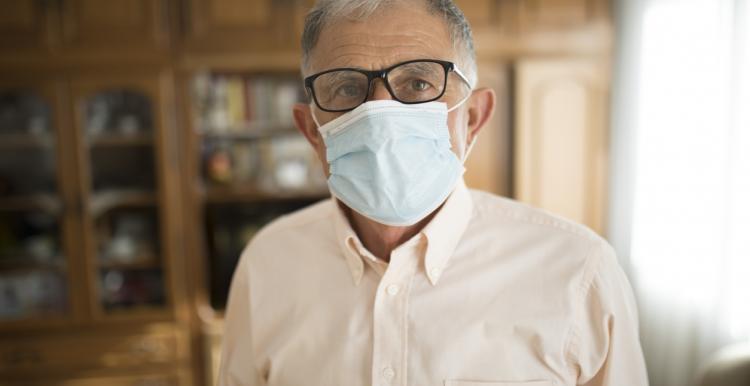 This guidance applies from 21 June 2021 and replaces previous guidance on care home visiting.
It applies to residential care homes and care home residents of all ages. There is separate guidance for supported living and extra care settings.
The measures described here are for visits with friends and family that take place in the care home. There is more guidance about visits where the resident leaves the care home: guidance on visits out of care homes.
Can I visit someone in a care home?
Visiting must be supported and enabled wherever and whenever it is possible and safe to do so – and a wide range of professionals have a role in supporting this, including care home managers, DPH and DASS.
As the default position, all care homes should seek to enable the different types of visits described in the guidance.
This guidance sets out the government's advice to support safe visiting:
every care home resident can nominate up to 5 'named visitors' who will be able to enter the care home for regular visits (and will be able to visit together or separately as preferred)
the 5 named visitors may include an essential care giver (where residents have one). Babies and preschool-aged children do not count towards the total of 5 (provided no individual visits breach national restrictions on indoor gatherings)
to reduce the risk of infection, residents can have no more than 2 visitors at a time or over the course of one day (essential care givers are exempt from – and so not included in – this daily limit)
every care home resident can choose to nominate an essential care giver who may visit the home to attend to essential care needs. The essential care giver should be enabled to visit in all circumstances, including if the care home is in outbreak (but not if the essential care giver or resident are COVID-positive)
named visitors and residents are advised to keep physical contact to a minimum (excluding essential care givers). Physical contact like handholding is acceptable if hand washing protocols are followed. Close personal contact such as hugging presents higher risks but will be safer if it is between people who are double vaccinated, without face-to-face contact, and there is brief contact only
national restrictions on indoor gatherings should be followed. Find out more about what you can and cannot do
care homes can also continue to offer visits to other friends or family members through arrangements such as outdoor visiting, rooms with substantial screens, visiting pods, or from behind windows
Are you worried about a relative or friend living in a care home?
We are working closely with care providers to ensure that health services in Greenwich reflect the needs and expectations of its residents. You can support our work by getting in touch to share your experience using care home services. 
How do I get a test to visit my loved one in a care home?
The Department of Health and Social Care are providing all CQC-registered care homes in England with rapid tests. Tests will be rolled out from 2 December  and should be available in all homes by 25 December.
Indoor visits with physical contact will only be able to take place once care homes receive their tests from the Department of Health and Social Care. Care homes will then supply visitors with a test on the day of their visit.
When arriving at a home, staff will test visitors using a Lateral Flow Device (LFD). These LFD tests will involve taking a throat and nasal swab sample, after which, visitors will receive their results within 20-30 mins. During this time, visitors must follow policies as set out by the care home (i.e. stay in designated waiting spaces) and not enter the home until they receive a negative test result and are provided with PPE.
If visitors test positive using an LFD test at the home, they will be offered a second COVID-19 test which will be able to confirm whether an infection is present. Results should be available from these confirmatory tests within 48-72 hours.
The care home you are visiting should provide you with full details about tests and visits, including how visitors are required to register their negative or positive results.
What should I do to keep the person I am visiting safe?
Visitors should wash their hands for 20 seconds using soap and hot water or use hand sanitiser on entering and leaving the home., They should also catch coughs and sneezes in tissues and clean their hands after disposal of the tissues.
Visitors will be provided with PPE for indoor visits.
Are visits affected by which tier I'm in?
If visitors receive a negative COVID-19 test on the day of their visit and proceed to follow all other infection control measures as set out by the care home, visits will be allowed across all tiers in England.
During periods where care homes are waiting on delivery of tests, indoor visits without physical contact (or protective screens) may be allowed for Tier 1 areas only. Social distancing must be maintained, PPE used and good hand hygiene must be followed by visitors to these homes. 
How often can I visit a care home?
Enough tests have been sent to homes to test two visitors per resident, twice a week. If visitors receive negative test results, they will be allowed an indoor visit.
It is still recommended  that visits should be limited to a single constant visitor, per resident, wherever possible. There should be an absolute maximum of 2 constant visitors per resident (taking into account individual residents' circumstances). This is in order to limit the overall numbers of visitors to the care home and the consequent risk of disease transmission.
To provide opportunities for more visits without testing, homes can allow outdoor, socially distant visits as well. Homes must make their own arrangements for these visits, but they can involve temporary structures such as 'visiting pods'.
Your local care home will outline details for indoor and outdoor visits in their visiting policies, which should be shared with all residents and their loved ones.
What happens if there is an outbreak at the care home?
If there is an outbreak in a care home, then visiting will need to be restricted again. These restrictions will continue until the outbreak has been confirmed over by the local care home and Director of Public Health. You should be informed of this by the care home manager.
Exceptions will be made in all cases for visits in 'exceptional circumstances', such as to residents at the end of their lives.
What happens if I can't see my family or friend in the care home?
Care homes are responsible for ensuring that the right visiting arrangements are in place for each resident. Visits should be facilitated as much as possible and appropriate with an individual's situation, but made safely in line with the appropriate infection prevention control measures.
If providers are unable to safely allow indoor or outdoor visits in line with new guidance - or due to a positive coronavirus test result - alternative ways of communicating between residents and their families and friends should be discussed and offered. The care home should also provide regular updates to residents' loved ones on their mental and physical health, how they are coping, and identify any additional ways they might be better supported including any cultural or religious needs.
Visits to a COVID-19 positive resident should only be made in essential circumstances (for example, end of life).
Can a care home resident come and visit me out of the care home?
Opportunities for care home residents to make visits out of the home are an important part of care home life.
Even as vaccine coverage increases, there are still risks involved in visits out. It's important that care homes, residents, family and friends take steps to manage and mitigate these risks.
Go to full guidance
For the most up to date guidance, including information of what should be included in your care home's visiting policy, visit the Government website.