Can I get the Monkeypox Vaccine?
On the 28th July, the Government announced new measures to prevent the spread of Monkeypox. Find out more.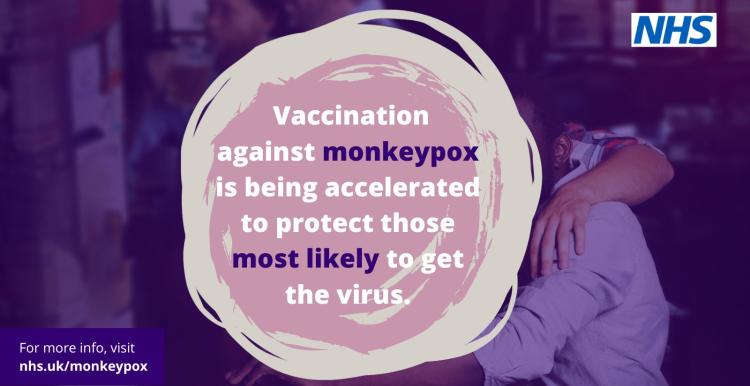 A smallpox (Modified Vaccinia Ankara (MVA)) vaccination* is being offered to people who are most at risk right now to help protect them against monkeypox.
As monkeypox is caused by a virus similar to smallpox, vaccines against smallpox are expected to prevent or reduce the severity of the monkeypox infection.
The Joint Committee on Vaccination and Immunisation (JCVI) has recommended using the MVA vaccine more widely in those at risk to help also reduce spread of the infection.
There is a limited supply of the MVA vaccine, so initially, one dose is being offered to those at highest risk first. As more vaccine supplies become available, more people will be offered the first dose of the vaccine.
Additional supplies are expected soon and those next in line will be offered the vaccine as soon as soon as it becomes available.
*The vaccine you are being given is called Imvanex in the UK and Europe, Jynneos in the US and Imvamune in Canada. These all contain the same MVA vaccine and are made by the same company.
Who the MVA vaccine is recommended for
The UK Health Security Agency (UKHSA) currently recommends that MVA is offered to:
healthcare workers who are caring for and who are due to start caring for a patient with confirmed monkeypox (2 doses are normally required). This includes some staff in sexual health clinics who are assessing any suspected cases

gay, bisexual and other men who have sex with men (GBMSM) at highest risk of exposure. Your doctor or nurse will advise vaccination for you if they consider you are at high risk – for example if you have multiple partners, participate in group sex or attend 'sex on premises' venues. Staff who work in such premises may also be eligible

people who have already had close contact with a patient with confirmed monkeypox. Vaccination with a single dose of vaccine should be offered as soon as possible (ideally within 4 days of contact but sometimes maybe given up to 14 days
Because of the limited supply, only one dose of vaccine will be offered now to as many eligible people as possible. It is important to come forward for your first dose as soon as you are invited. If the outbreak continues a second dose may be advised later by your doctor to those at on-going risk.