New Greenwich & Bexley Bereavement Help-Point service launched
Local Partners work together to launch new Greenwich & Bexley Bereavement Help-Point; a service which aims to provide timely and compassionate support for people who are bereaved at the most challenging of times.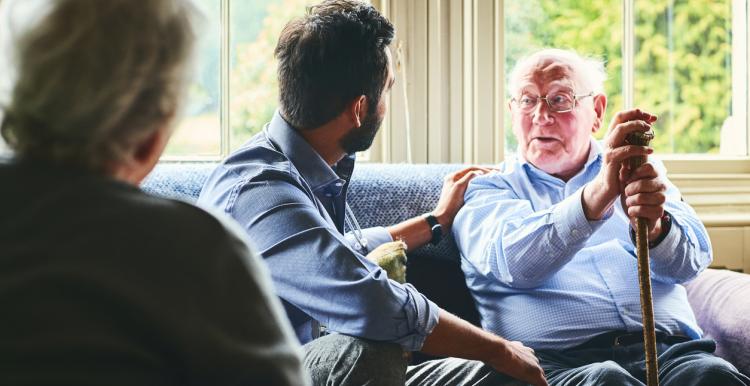 Bereavement at any time is difficult and can present people with feelings of isolation, despair, confusion and uncertainty; but right now, when normal routines and support mechanisms are disrupted, people who have lost loved ones, through COVID-19 or other illnesses, may well experience these feelings even more. That's why several local organisations have come together to collaborate to develop Greenwich & Bexley Bereavement Help-Point.
The Greenwich & Bexley Bereavement Help-Point is here to help people through bereavement. The service has been established by CACT, Cruse Bereavement Care, Greenwich & Bexley Community Hospice, MetroGAVS, Mind and South London Counselling Service with input from both local authorities and the local NHS. We aim to help anyone living in the Royal Borough of Greenwich or London Borough of Bexley by offering emotional support and helping people to find appropriate practical support. Our trained counsellors are at the end of the 'phone, able to give immediate emotional support and link people in need with the right support from local bereavement charities.
By working together, the combined services hope that when people contact the Help-Point they will be given a joined-up offer of support, with immediate access to trained counsellors who will be able to direct the person to the best support for them.
Because of the Coronavirus Pandemic, most support will be provided on the telephone or on line for now, however we will be developing our support as social distancing measures evolve.
'I am so pleased we have been able to launch this collaboration, it feels so important to help people get through the distressing situations many people find themselves in as a result of this pandemic' Kate Heaps, Chief Executive says; 'Whatever your loved one has died with, we want to be able to support you, so much of our normal rituals and support mechanisms have been snatched from us through this awful disease and I know, from relatives of Hospice patients, friends and others I know who are bereaved, how lonely that must make people feel. If we can make things just a tiny bit better through this partnership, I will know that the partnership is worthwhile.'
'Sudden and untimely deaths, funerals without ceremony, goodbyes without family, hugs or holding. Now is such an awful time to be bereaved. Cruse has always sought to be there when people need us – but these are exceptional times with so many needing help. This fantastic link-up with our neighbour-services will ensure that everyone can get the right help when it's needed.'
Dr Winnie Kwan, South East London Cancer Alliance GP Clinical Lead and Clinical Lead for End of Life Care in Bexley said 'It is heart-warming to witness how quickly and effectively the different local agencies have come together, to join efforts to create a bereavement support service for people living in Greenwich & Bexley who have lost loved ones during this unprecedented Corona Virus pandemic.'
'We are living in a very challenging time but we are in this together; although the counsellors are only able to make telephone or virtual contact with clients because we have to stay vigilant, this service is still invaluable in enabling bereaved people to be connected and supported. It can provide a life-line.'
'If you are concerned about someone who is bereaved, please do encourage them to get in touch if you think they could benefit from this support. It may be comforting for them to know that there is a caring and compassionate community who wants to help.'
To contact the Greenwich & Bexley Bereavement Help-Point please phone:
0208 320 5833  
or visit:
Download the bereavement service flyer here