Black Lives Matter digital listening event summary
In light of the known impact of Covid-19 on Black, Asian and Minority Ethnic(BAME) communties, and our solidarity with the Black Lives Matter movement, in July we held a digital listening event.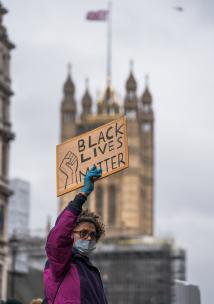 Context
We brought together Greenwich BAME service users and organisations representing BAME communities with commissioners and providers of local health and care services. 
In four breakout groups, (health inequalities, access to services, community resilience, mental health) BAME residents and community organisations shared their experiences of racism, their experience during Covid-19, and their experience of seeking support, accessing, and using health and care services.
BAME residents and community organisations told us the changes they want to see to address racial and health inequality and ensure health and care services are equitable.
Key Message
Commissioners and providers have publicly stated their commitment to addressing racial and health inequality. 
BAME communities want to know – what will be done, and how will it be different? Who will be held to account, and what measurable impact will it have on health and racial inequality?
Next Steps
'REFLECTION' Share feedback with participants and more widely with BAME service users/ organisations. 
'REACTION' Commissioners and providers set out how they will work with BAME communities and take measurable action on inequality.
'RESPONSE' Healthwatch Greenwich and BAME communities hold commissioners and providers to account.
Health and care provider response
Our health and care system was founded on the principles of fairness and equity yet these principles are not a reality for many of our communities or staff. The brutal death of George Floyd at the hands of a police officer in America has shown inequality, racism and discrimination still scar black peoples' lives across the world. For the black community it is a painful reminder of the parallels in the systemic racism here in the UK and for our communities in Greenwich.
We have seen that Covid-19 has exacerbated health inequalities and has had a disproportionate health impact on our Black, Asian and Minority Ethnic Communities (BAME). It has also raised the profile of wider existing social equalities. At the same time, through the pandemic we have learnt that we need to work differently with our communities, the way that we have worked in the past has not always provided the openness and transparency that we need to engage with our communities in a meaningful way.